Welcome to the Star Wars: Legion Wiki
This wiki is a resource for Star Wars: Legion Game published by Fantasy Flight Games, devoted to discussion of builds and strategies with minimal lore. Inspired by the awesome X-Wing Miniatures Wiki and Star Wars: Armada Wiki for the space combat games, this wiki will serve the purpose of being an easy look-up site for the components of the Star Wars: Legion miniatures game. Feel free to contribute!
"Shouts and screams echo around you—the din of pitched battle. The air smells acrid from blaster fire as lasers hiss past your squad. A scout trooper roars past on a 74-Z speeder bike, weaving between trees and firing at someone you can't quite see through the underbrush. You raise your blaster and fire in the same direction, hoping to avoid any shrapnel. Ahead, you see Darth Vader, towering over a group of fallen Rebels strewn across the forest floor. He flicks his lightsaber forward, and your platoon charges…"
"Fantasy Flight Games is proud to announce Star Wars™: Legion, a new miniatures game of infantry battles that invites you to join iconic heroes and villains, lead your troopers into battle, and battle for the fate of the Star Wars galaxy. With Star Wars: Legion, you can build and paint a unique army of miniatures. You can command your troops in battle and devise masterful tactics. And you can conquer your opponent's army to bring victory to the light side or the dark side! "
"With thirty-three unpainted and easily assembled miniatures, and all the cards, movement tools, tokens, and terrain that you need for battle, the Star Wars: Legion Core Set is the perfect way to bring Star Wars battles to your tabletop."
For the FFG pre-launch hype, please view the Fantasy Flight Games Video Series.
| | | |
| --- | --- | --- |
| | Imperial Units | |

 




| | | |
| --- | --- | --- |
| | Separatist Alliance Units | |

| | | |
| --- | --- | --- |
| | Rebel Units | |

Commander
Operative
Corps
Special Forces
Support
Heavy




 

| | | |
| --- | --- | --- |
| | Galactic Republic Units | |

Commander
Operative
Corps
Special Forces
Support
Heavy
Click Expand to see all products by release date →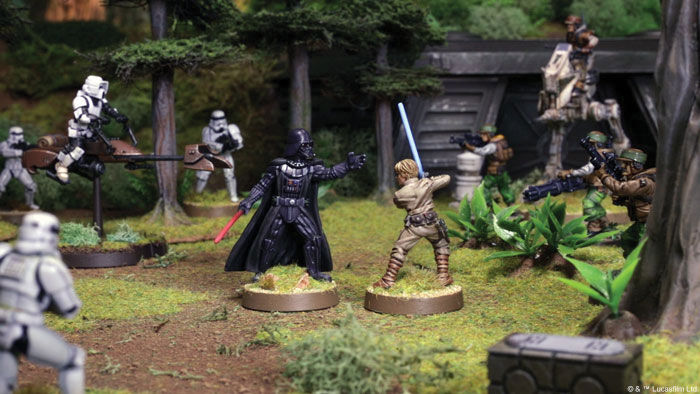 Community content is available under
CC-BY-SA
unless otherwise noted.